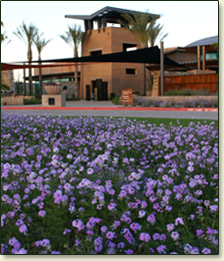 Aqua Commercial Irrigation (ACI) is an Irrigation Consulting Firm. The firm specializes in large scale irrigation master-planning and design, providing services to Landscape Architects, Developers, Homeowner Associations and Government agencies.
ACI was established over twenty years ago and is now based in Southern California. Over the years ACI and has developed a reputation for providing innovative, cost effective solutions for complex irrigation issues.
Since its inception ACI has provided irrigation design and planning services for a wide variety of projects, including some of the largest planned residential developments in the country. Many of these projects are on-going, with ACI providing irrigation master planning and detailed design, as each new phase of the community is developed.
The irrigation planning portion of our work includes
Estimating landscape water use requirements.
Evaluating potential water sources & planning irrigation points of connection.
Planning and coordination of roadway sleeving.
Planning the irrigation control system and electrical point of connection.
These planning services are provided as a necessary means to insure the necessary irrigation infrastructure is in place to transition into the construction document phases of the detailed irrigation design.

ACIís detailed irrigation design services have been provide for recreational parks, open spaces, sports complexes, schools, retail centers and streetscapes. ACI works closely with the Landscape Architect and project developer to determine the most economical or desirable water source, type of water application, irrigation materials and installation methods. ACI stays involved during and after construction to insure the installation conforms to the construction documents.

ACI has been a pioneer in the design and use of drip irrigation in the ornamental landscape. Working in areas with some of the harshest environments and most expensive water in the United States, thriving landscapes along with considerable water savings have been realized through the innovative use of drip irrigation.

ACI takes pride in providing high quality irrigation planning and construction documents and data, using the latest technologies. ACI provides its clients with the information and documents required for a successful project, on time and within budget.